Bathroom Remodeling
Serving Austin, Round Rock, Pflugerville & Georgetown, TX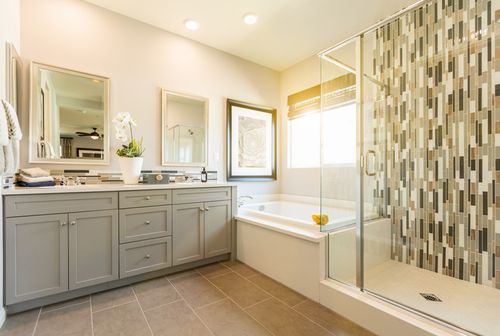 Experienced Bathroom Remodeling Contractors
Does your bathroom feel cramped, disorganized or outdated? Then it's time to call the bathroom remodeling contractors at Kahlo Construction. Your bathroom is one of the most important rooms in your home. It's where you begin everyday, and end every night. A new bathroom can improve functionality and give you a space that you actually look forward to getting ready in. Stop putting it off and contact our bathroom remodeling contractors for service in the Austin, Round Rock, Georgetown and Pflugerville, TX areas.
Bathroom Remodeling Ideas
When going into a bathroom remodeling project, it is always a good idea to do some research about what you might want. Here are a few the bathroom remodeling trends we have seen recently:
Bright Colors: If you have a small bathroom, bright colors can help give the illusion that the space is bigger. Bright and light colors, such as white and light blue will help improve natural lighting and give the area a more open feel.
Lighting: Going along with the light colors, it is important to have ample lighting in your bathroom. Since it is where most people get ready for the day, it is a good idea to have lighting that will make sure you look your best. Our bathroom remodeling contractors can show you a wide variety of lighting options for your bathroom.
Accent Colors: If you go with light and bright colors, dark accents such as black, will really pop. The contrast breaks up the bright colors and really finishes off the space. Types of accents can include picture frames, soap dispensers, small decorations and more. We recommend looking up some bathroom styles you like to base the remodeling project on.
Contact Our Bathroom Remodeling Contractors Today!
If you are ready to get started, contact our bathroom remodeling contractors today! We have helped residents all throughout the Austin, Round Rock, Georgetown and Pflugerville, TX areas. From minor changes to complete bathroom renovations, our team can handle it all. Call today for more information or to schedule an appointment.